We've talked about ITSM and some of the key differences it has with ITIL. To provide a refresher, one of those key differences is that ITSM supports the acceleration of teams with effective ways to manage IT services whereas ITIL is a framework for ITSM that holds specific procedures and regulations to its form. They may hold sole purposes individually, however high velocity teams are empowered when utilizing these practices conjointly. Here we're taking a new approach and heading deeper to the core on how ITSM and ITIL go hand-in-hand.
The Basics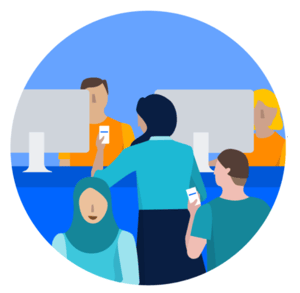 If you missed our last post where we identified some of the major differences between ITSM and ITIL, you may not know what each of the acronyms stand for and how they relate to information technology. First, ITSM stands for Information Technology Service Management. It is defined as a service-driven management approach to IT delivery services – from the creation and design to the plan, delivery, and support methods. Second, the meaning of ITIL is Information Technology Infrastructure Libraries. This subject is considered more of a framework for organizations to deliver IT services with value maximization in mind.
The Collaboration of Methodology and Practice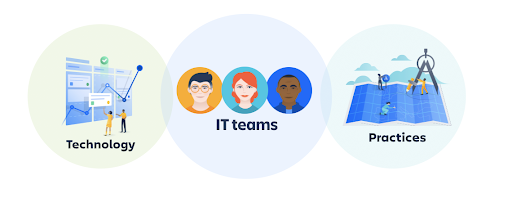 As Atlassian states, ITSM is viewed more as a methodology, and ITIL presents itself as a set of practices that form the best ITSM configuration for an organization. Furthermore, similar to many aspects of business structure, all sorts of processes, standards, core practices and procedures differ from one organization to the next. A set of ITSM standards for one company may not lead your team to its full potential, and your organization's adaptation to ITIL framework may provide better support to your team than others. Therefore, it is important to note that your team should stand behind ITSM methodologies and ITIL practices that power support and easily accessible collaboration to IT teams at high velocity.
Teams are the Ultimate Link
In alignment with our standards here at E7 and one of Atlassian's most prominent focuses, a significant similarity connecting ITSM and ITIL, aside from the obvious ties they have to technology, is that they are both team-based. IT teams that have ITSM software built with efforts to provide empowerment and team collaboration and strong ITIL framework that connects those efforts with customer satisfaction are in better position to excel. These outlooks tie the wires of smooth functioning and stronger team productivity together.
One of the major reasons ITSM methodology and ITIL framework go together so well is how impactful they are on companies who have collaborative teams that share knowledge, uphold a positive culture, and use processes that create and maintain value. In fact, a strong recommendation derived from ITIL, noted in the Atlassian's ITIL guide, "The Future of ITSM is Agile," is creating value streams that can focus and align the true purpose for your team's efforts. An example can be seen below: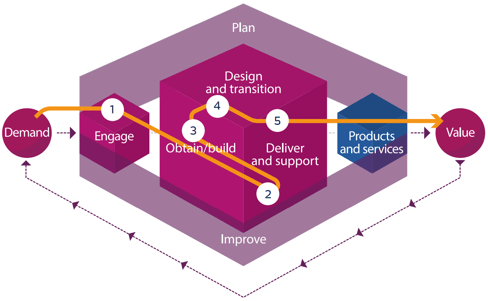 Though the message may be clear, it is important to stress that strong, focus-driven teams that join forces to accelerate great, quick and helpful service to customers are what drive empowering results for modern IT teams. Applying ITSM to your organization with a more agile outlook will further support today's ITIL goals by placing more emphasis on how to help customers while embracing flexibility and collaboration rather than adhering to rigid processes that may create siloes.
If there's one part you take from this article, it should be that the individual purposes ITSM and ITIL stand for relative objectives: to provide IT teams supportive value and effective ways to join forces with teams outside of the IT spectrum that accelerate maximum potential. Alike to other topics, teams are a pretty common theme around here. To learn more about all things ITSM, visit our ITSM pages by clicking "Atlassian Services" near the top of the page or click below to check out our ITSM webinar on Incident Management!