We did it!
We are thrilled and overjoyed to share that Atlassian announced E7 Solutions as Atlassian Partner of the Year 2020: Cloud Services. We are honored that Atlassian has recognized us with this award and for our dedicated efforts in servicing clients, developing customizable product packages and consistently looking for new ways to grow.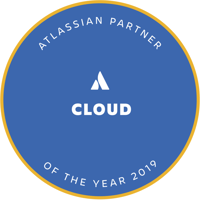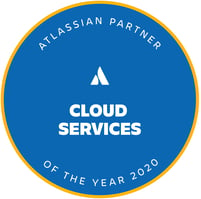 Reflecting on Our Journey
Back in 2018, E7 was recognized by Atlassian as Partner of the Year: Rising Star. This really kicked our hands-on attitude into gear to fine-tune our expertise and provide the best experiences and support yet for our clients. Our hard work paid off, as we received Partner of the Year: Cloud the following year in 2019.
Since then, our team has continued to devote the upmost time, effort and energy to develop innovative, client-centered ideas and services - leading us to our accomplishment this year of Partner of the Year: Cloud Services. Atlassian has not been quiet about Cloud's transformative impact on business today. As Atlassian continues to focus its future on Cloud, we will follow alongside and align our goals with Atlassian.
"We couldn't be more pleased with our partnership with Atlassian, and I'm really excited and proud of the E7 team for all the hard work that they've done to get us here today."
-E7 Solutions CEO Edmond Delude
As one of 16 solution partner recipients honored as Partner of the Year, this recognition symbolizes the work we put in to provide the best services possible for our clients over the last calendar year. We would like to thank Atlassian and all of our clients for helping us achieve this goal.
"Atlassian would like to congratulate and thank this year's Partner of the Year award recipients," Atlassian's Head of Global Channels Martin Musierowicz said. "Solution Partners play an instrumental role in our customers' success, and we are excited to be able to highlight some of our top partners who go above and beyond to provide innovative solutions and Atlassian services to our customers."
What's Next for E7
As 2021 moves forward, we at E7 Solutions are even more excited to share what we have been working on to improve and specialize our services and expertise! We hit the ground running and won't be stopping anytime soon. Thank you to Atlassian and to our incredible clients for making this happen!
Check out the full press release below!