Welcome to part three of our four-part series on how Jira Service Management can elevate your support teams to the next level of Incident Management. In this week's entry, we'll discuss how agents can use embedded features built into every incident to instantly escalate in a number of ways, and why having these features at your fingertips is so valuable when the pressure is on to respond quickly.


Table of Contents:
→ Flagging an issue as a Major Incident
→ Creating a Conference Call
→ Initiating a Chat Channel

Support agents carry a great deal of responsibility and pressure when core business services are down. While of course it's important to have your incident response processes documented internally, it's equally as important to enable your agents with the proper tools to execute these processes.
"Every minute counts. Prior to joining the Atlassian ecosystem, I spent 15 years supporting the technology inside thousands of retail stores across North America," explained Paul G., Solutions Engineer at E7 Solutions. "When the POS registers at hundreds of locations across the country were unable to accept credit cards, you can imagine the stress and urgency responding support agents felt."
Having to find a spreadsheet with the on-call phone numbers, draft an email, find the conference bridge number and passcode, call the on-call team, notify your supervisor, and on and on and on the steps go. All via different methods and in different places.
We talked in part one of this series about how JSM automatically pulls in relevant information needed for an agent to respond quickly - it's no different when needing to escalate and act with speed.
Without having to leave the issue in JSM, agents can flag incidents as Major, start a conference call, or create a chat channel with ease. Let's dive into how!
Flagging an issue as a Major Incident
In the details section of a JSM issue, we can see these three actions readily available to an agent at any time.
By clicking the Major Incident radio button, two flags can be automatically added to your incident.
A Major Issue label will be placed at the top of the issue, beneath the issue key.


A second flag can appear as an internal comment, so as agents are reading through comments they can visibly see that the issue has now been classified as a Major Incident.

This ensures all agents working on the issue know it has been classified as Major and response is critical.
Creating a Conference Call
Agents also have the ability to create a video conference call with one click. This will either start an internal call via your Atlassian Opsgenie application or your connected Zoom account.
While chat may be a great option for quick high-level updates for a group of responders, when it comes to true collaboration, screen sharing, troubleshooting, and more - it's ideal to have the key players in a shared video call to begin these steps immediately.
Initiating a chat channel
In today's fast-paced world, most organizations live and breathe in a chat tool all day long. One of the first actions typically asked of a responding agent is to create a chat channel when there's a major incident. This brings technology leaders and responders together quickly to begin escalation and investigation.
Agents no longer have to leave their ticketing tool, pull up their chat tool, manually create a channel, name it, etc. All of this can be done instantly by clicking Create Channel from a JSM issue. The ticket number, description, and issue link are even automatically populated. This feature is available to integrate directly with Slack or Microsoft Teams.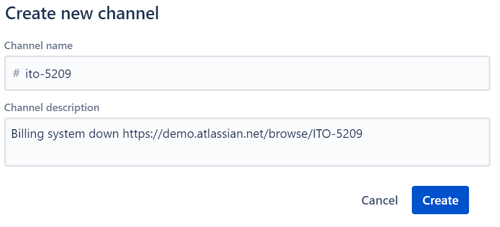 Conclusion
Integrating these three key escalation tools into a single JSM issue has enabled support agents to escalate right from where they're already working, giving them everything they need at their fingertips.
Speed is everything when systems are down, causing disruptions throughout the organization and its customers. Arming your agents with the ability to act instantly is critical to not only restoring service but also building confidence in your support staff so that when the next outage happens, they'll be ready.
Stay tuned for part four where we'll dive into Post Incident Review and Problem Management.
At E7 we offer Journey to JSM packages which are designed to get your team into JSM with all the guesswork removed. Our out-of-the-box packages include strategic guidance, design workshops, assessments and recommendations, implementation, and training. More than a proof of concept, you'll have our expert analysis, scorecards to measure continued success, and a fully realized service management solution!
Stop wasting valuable resources with your service management systems and start your Journey to JSM today with E7 Solutions.
Part 1: Understanding Incident Management in JSM
Part 2: Linking Incidents to Jira Software
Part 3: Escalate Incidents With Speed in Jira Service Management