Welcome to part one of our upcoming four-part series where we dive into how Jira Service Management (JSM) can bring your technology agents to the next level of Incident Management. In this bi-weekly series, 'How to Manage Incidents with Jira Service Management: A Step-by-Step Guide for Jira Agents', we'll discuss how some key out-of-the-box JSM features can really enable agents to respond with speed, collaborate with development, escalate efficiently, and ensure follow-up post-incident. All organizations have managing incidents as a top priority and their technology agents need to right tools at their fingertips to respond, escalate, and resolve in a timely manner. This series provides an in-depth look at how JSM and its out-of-the-box incident management features more than meet these needs.
Incident Management Response
Responding quickly and accurately to incidents can be a challenge. Agents often have to sift through various spreadsheets, folders, tools, etc. to find the information needed to respond, troubleshoot, and escalate an incident. Every minute a core business service is not operational, organizations lose money.
Below we're going to explore some key out-of-the-box features of Jira Service Management (JSM) that enable agents to act immediately upon incidents being reported, which will result in quicker restoration of service for customers.
These features enable JSM users and agents in a number of ways:
Enable the customer with self-service knowledge base articles or request forms for quick action.

Provide agents insight into what systems, applications, and support teams are affected.

Automatically populate data from Jira Assets based on the service selected by the customer.

Visibility into linked issues related to the same service being reported.

Instructions and links to runbooks auto-populated in the request giving the agents immediate access to processes and procedures for specific business services.
Utilizing
Self-Service
We feel it's important to encourage customers to use the search feature on the JSM customer
portal homepage, as it's going to provide users with two potential ways to obtain assistance.
In our example here upon typing in "order system down" we're first presented with potential knowledge base articles housed in Confluence, that could help us resolve our issue or provide helpful information.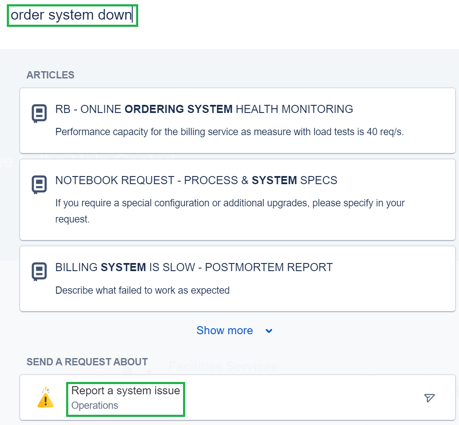 Customers will also be presented with any relevant request forms based on what is entered in the search.
When it comes to reporting incidents, this provides the customer quick access to the form they need to report the issue immediately, avoiding having to search various portals and forms to find what they need.
Upon submission of a new issue, key data is automatically added to the request. Let's take a look at what information is presented to the JSM agent when first responding to an incident.
Incident Ticket Overview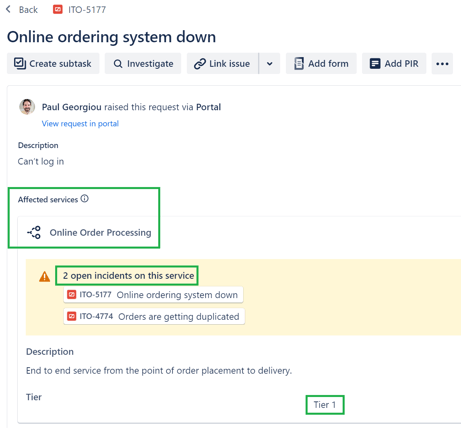 In the body of the ticket, the agent can see the affected service based on what the customer submitted on the intake form. This is being pulled from the Jira Assets CMDB. Upon expanding the service, the agent will see any additional incidents that may be open on the affected service, as well as the Tier of the service. Having this information readily available gives the agent a sense of how widespread the incident may be.
Also pulled from Jira Assets, on the right side of the issue, the agent will also see any applications impacted, as well as the Support Group. Additional details can be seen when expanding the impacted application.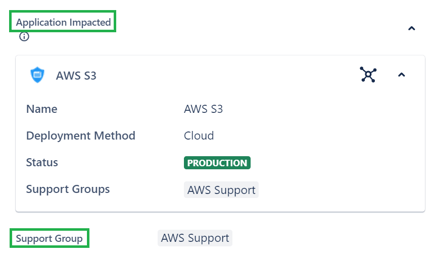 This immediately lets the agent know not only the specific affected applications but what support group needs to be engaged, without having to go outside of the issue to check an external list.
Confluence Runbooks
Lastly, with built-in automation, links to specific Confluence runbooks can be added to the issue upon creation based on the affected service chosen by the customer. These runbooks can provide a step-by-step guide for the agent on troubleshooting, communication plans, architecture, and known errors to enable quick response and action.

Conclusion
Managing incidents is the most critical function for all IT Operations teams. The most important element of managing these incidents is speed. How quickly Operations identify, respond, escalate, and ultimately resolve will determine how long core business services are unavailable for customers.
The ability to act quickly is often a crutch to Operations teams. We consistently see organizations using on-call spreadsheets that are hard to find, having to navigate to multiple tools to communicate or escalate, or struggling to find the right documentation - all slowing down response and resolution for customers.
With Jira Service Management and its built-in features discussed above, these issues are not only solved but are all actionable within one system, one screen, and one issue.
At E7 we offer Journey to JSM packages which are designed to get your team into JSM with all the guesswork removed. Our out-of-the-box packages include strategic guidance, design workshops, assessments and recommendations, implementation, and training. More than a proof of concept, you'll have our expert analysis, scorecards to measure continued success, and a fully realized service management solution!
Stop wasting valuable resources with your service management systems and start your Journey to JSM today with E7 Solutions.
Next in the Series: Linking Incidents to Jira Software Development Teams